What we offer
Build your skills by actually flying difficult instrument scenarios
"After just 3 sessions with Mark at Advanced Aviation Simulators, I felt confident to fly an actual insturument approach into Salt Lake City in my personal aircraft."
Our instructors are actual line pilots who have 121 and 135 flying experience in just about all weather conditions. When you go to other flight schools, you will most likely get placed with a fairly new instrument instructor who has minimal experience. Usually that means just enough skill and experience to get through a check ride.
Our mission is to provide a safe comfortable environment in which pilots can practice difficult instrument flying procedures. We have developed a few scenarios that will challenge you. We can incorporate any level of difficulty you want to challenge you no matter what skill level you're at.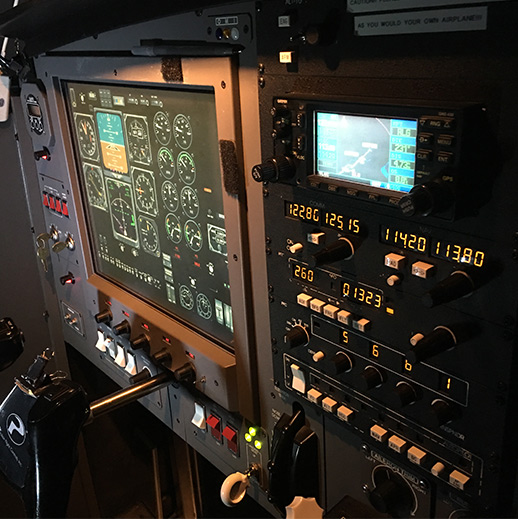 Instrument Training Scenarios
You can choose any level of difficulty
Interesting info
Donec auctor magna nisised lan dit sem varius sednterd um et malesuada fames ac ante ipsum primis in faucibus. Vivamus quis sollicitudin ipsum. Vestibulum ac nisi laoreet, aliquet lacus ut, dictum ex. Phasellus auctor metus eu arcu maximus, vitae lacinia massa varius.
Duis et malesuada dolorDuis commodo sed mauris at malesuada. Class aptent taciti sociosqu ad litora torquent per conubia nostra, per inceptos himenaeos. Fusce ferm entum, nibh in volutpat ultrices, dolor nunc bibendum dolor, volutpat dapibus nisi ex id turpis. Ut sagittis commodo elit quis finibus. Maecenas vel lectus tincidunt, eleif end eros nec, pretium velit. Quisque posuere arcu urna, a molestie est porttitor non. Phasellus ac ligula condimentum, auctor augue tincidunt, facilisis diam. Phasellus cursus vel lorem et facilisis. Nulla eu purus ac purus cursus fringilla. Integer arcu magna, accumsan ac molestie a, laoreet sit amet tellus. Phasellus tempus varius justo, at fringilla libero sollicitudin nec. Cras sit amet nulla a neque fermentum sodales sed vel purus. Vestibulum consectetur, felis at lacinia venenatis, augue turpis varius est, at aliquam lectus sapien a ante. Pellentesque nisl enim, porta at est sed, hendrerit tristique lectus. Pellentesque habitant morbi tristique senectus et netus et malesuada fames ac turpis egestas. Donec quis nunc eget est accumsan rhoncus. Donec ultrices leo ex, in semper turpis feugiat sed. Integer ultrices finibus posuere. Curabitur nec mollis nunc. Sed dapibus dui eu odio pellentesque elementum. In consectetur felis et sapien dignissim, hendrerit tempus nisl egestas. Praesent quis maximus mauris, ac sagittis justo. Nulla quis mattis felis.
Cras eu efficitur neque, sed dictum massa. Suspendisse malesuada ultrices est ut lacinia. Ut mattis sapien et vulputate sodales. Donec lorem enim, condimentum eget libero et, mattis volutpat quam. Nunc mi elit, venenatis in est vel, viverra euismod velit. Vestibulum sed rutrum orci, in tempor sapien. Duis hendrerit, eros vitae malesuada malesuada, tellus elit pharetra lorem, vitae facilisis enim mauris sit amet nisl. Donec vel iaculis turpis.
Morbi ac dolor et quam pretium sagittis in ac lacus. In hac habitasse platea dictumst. Integer dignissim congue ornare. Aliquam et arcu tellus. Vestibulum rutrum sagittis purus in sodales. Nulla tortor felis, interdum at felis quis, gravida feugiat ex. Nulla sagittis dui mauris, a aliquet elit